Celts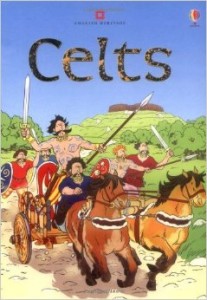 (Usborne Beginners) by Leonie Pratt
A simple introduction for younger children. A bright, well-illustrated, clear book for younger children and beginner readers.
On the Trail of the Celts in Britain
 by Peter Chrisp (Franklin Watts)
This book looks at Iron Age Great Britain (not Ireland) through the archaeological evidence, featuring sites and finds. As a result it focuses on types of buildings – and is really good at showing the diversity of building types – whether in it be hill-forts, roundhouses in wood or stone, crannogs or brochs. There are also spreads on farming, chalk figures, religion, burying the dead and human sacrifice.It rounds up with information about the Roman invasion, and the long term survival of Celtic languages.
There is a glossary, and timeline. And unsurprisingly for a book based on archaeological sites, a list of places to visit.
The pages use large scale photographs of the archaeological finds, and sites including reconstructions such at Butser Ancient Farm. The text is fairly large, and flows well over the pages. It makes good use of maps to show sites.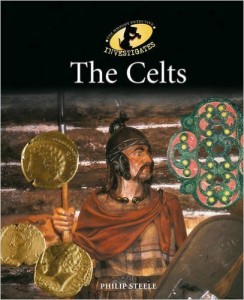 The History Detective Investigates: The Celts
by Philip Steele
This books starts with a wider look geographical look at Celts, starting with different 'Celtic' peoples across Europe and the origins of the this cultural group. 
It then focuses on British Celtic people, looking at everyday life – rulers, war, clothes, homes, food, metalworking, religion. It then looks what happened when the Romans came and the impact of their leaving. It discusses how we know about the Celts, and has several ideas of projects. It rounds off with a Glossary, answers to the questions and further sources of informaiton. 
Pages are packed with information. Though good size photographs feature too. Box outs are used to personalise the text with quotes, and for ideas for Detective Work – things to think about or do. Some pages have a question to follow up on. 
This series aims to provide a starting point for further thinking, and projects.